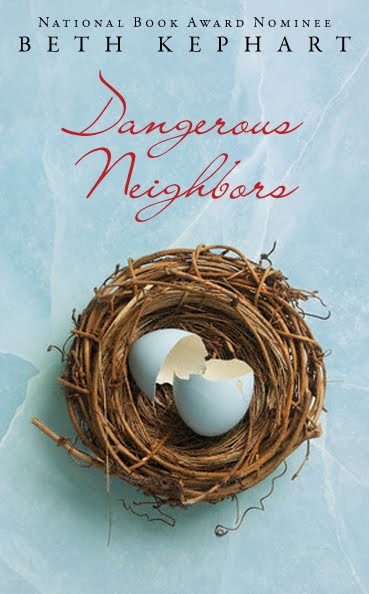 Dust Jacket Description



"
Could any two sisters be more tightly bound together than the twins, Katherine and Anna? Yet love and fate intervene to tear them apart. Katherine's guilt and sense of betrayal leaves her longing for death, until a surprise encounter and another near catastrophe rescue her from a tragic end. Set against the magical kaleidoscope of the Philadelphia Centennial fair of 1876, National Book Award nominee Beth Kephart's book conjures the sweep and scope of a moment in history in which the glowing future of a nation is on display to the disillusioned gaze of a girl who has determined that she no longer has a future. The tale is a pulse by pulse portrait of a young heroine's crisis of faith and salvation in the face of unbearable loss."






Characters:
When John Jacobson of Dreaming In Books recommends an author specifically to me, I know I'm going to get something good. Beth Kephart perfectly fit my mood at the time, and I'm so glad I started

Dangerous Neighbors

whilst in a depressed, nihilist, flowery-language-and-history mood.

Katherine is a girl after my own heart. She's uber responsible and fairly accomplished, but she's also attracted to the wild, adventurous counterpart of her sister, Anna. Katherine is too neutral of a character to create love from readers. Instead, her voice crafts a beautiful world, and that was enough to keep me entertained.

I understood Anna's appeal - especially to her sister, but I find that authors have a hard time creating free spirited, selfish characters that I care about. Anna was beautiful and encapsulating, but not to

me.

Fortunately, the novel's short size made this a non-issue. Daisy Buchanan might be the only successful example of a charismatic, self absorbed female character provoking true adoration in me. This fact makes it easy to forgive Kephart.

I thought Kephart did a great job creating her male characters. Bennett was intriguing enough for me to understand Anna's love and distanced enough for me to acknowledge Katherine's jealousy. The brief mentions of William made me fall in love with his personality in only three quick encounters. I would have loved to see more of him, but his brilliance might be in the resonance Kephart crafts in so few proven personality traits. Katherine's father is also created well, but I would have liked to see more complexity in her mother.

Kephart's true ability lies in her descriptions of the characters at the Centennial Fair. I found myself enjoying and adoring them much more than that of the main characters. All in all, not a bad ensemble for a story mostly devoted to writing, details and plot. 4 flowers.

Writing: Kephart makes a gorgeous world in few pages. I wanted to let Katherine's words cradle me. It's so rare that a novel makes me feel still, and that's exactly what Dangerous Neighbors manages. 5 flowers.

Plot: I desperately wanted to know the events of Anna's death through out the novel. Kephart didn't leave me waiting for too long, and the paradigm it created made sense, thanks to Katherine's motivations. Pacing was spot on, as was Katherine's emotional progression. 5 flowers.

End: This book may have one of the very best YA plot climaxes I've experienced in recent history. While I knew instinctively how the climax would end, it still affected me. This is very, very powerful, and it might be the crowning glory of the novel. 5 flowers.

Dust Jacket Description: A touch too melodramatic for the genuine feelings

Dangerous Neighbors

creates. 4 flowers.

Cover: I kind of love the perfect simplicity of the cover. I would like a thicker font type, though. 4 and a half flowers.



Overall:

This book is excellent for what it is. If you ever want a brilliantly written historical piece with a peaceful kind of tone, pick this up. 4 and a half flowers.