Hey,
Vanishing Point was an impulse buy. What can I say? I'm a sucker for historical fiction.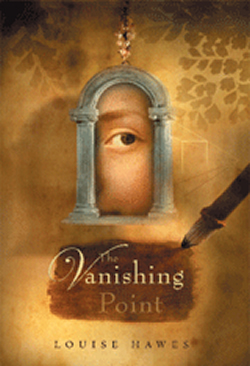 Dust Jacket Description:
"Vini's imperious father, a sixteenth-century Bolognese portraitist, teaches his students the importance of seeing: "Paint first with your eyes." But he can't see what's right in front of him--his 14-year-old daughter Vini's hunger to paint alongside his male apprentices. Earning a place in her father's workshop is just the first of many challenges Vini faces. The other painters regard her as an aberration; measles threatens her eyesight; and her mother's surprise pregnancy causes deep anxiety about Vini's place in her family. In imagining the adolescence of Renaissance artist Lavinia Fontana, a historical figure whose biography is outlined in an endnote, Hawes deftly blends history and invention, introducing a romance that flowers alongside Vini's talent, and giving her a role in resolving a poignant family conflict. At times Hawes projects perhaps too much sophistication into Vini's perceptions (in painting the objects in a still life, she is "a partner to each, a loving consciousness that holds, cherishes"), and the story line relies overmuch on contrivance. Nonetheless, fans of historical fiction will lose themselves in Hawes' sumptuously evoked Renaissance Italy, and aspiring artists will respond to Vini's amazement at "how full of drawings the world is."
Characters
: Vini got my attention from my beginning as a strong, capable and talented girl. She was willing to put in the work to become a good artist. Her love interest who's name I forget was surprisingly different from usual romantic leads, which was refreshing. Vini's family life was another fascinating element that didn't get fully formed until the end. I really enjoyed the characters.
4 flowers.

Writing:
From the start of the book with the depictions of puppet shows, I fell in love with the writing style. The luscious fluidity and descriptive voice caught me. The discussions of art and the artist's process were well written and beautiful. The style of this novel fit the era, beautiful and rich.
5 flowers.

Plot:
Seeing Vini become fully formed as an artist was a delight.
4 flowers.

Ending:
Slightly abrupt from the rest of the novel and not as satisfying as I had hoped, but still promising.
3 flowers.

Dust Jacket Description:
Fits the vibe of the novel perfectly.
4 and a half flowers.

Cover:
Gorgeous.
4 and a half flowers.

Overall:
A great story for those who want a good piece of Renaissance YA fiction.
4 flowers.


Emma Out!