Hello Everyone!
Yes, it is indeed meme time. TBR Tuesdays was created by my amaztastic friend
Korianne
and Teaser Tuesdays is hosted by
MizB
.
We shall start with TBR Tuesdays! Oh god, so many to-reads...right now, out of my library pile, I'm looking most forward to:
Girl At Sea
by Maureen Johnson
Goodreads Description:
Sometimes you have to get lost.
The Girl: Clio, seventeen, wants to spend the summer smooching her art-store crush, not stuck on a boat in the Mediterranean. At least she'll get a killer tan.
The Mission: Survive her father's annoying antics. Oh, also find some underwater treasure that could be the missing link to a long-lost civilization.
The Crew: Dad's absentminded best friend Martin, his scary girlfriend Julia, her voluptuous daughter Elsa . . . and then there's Aidan, Julia's incredibly attractive, incredibly arrogant research assistant.
What's going on behind Aidan's intellectual, intensely green eyes, anyway?
As Clio sails into uncharted territory she unveils secrets that have the power to change history. But her most surprising discovery is that there's something deeper and more mysterious than the sea—her own heart.
This'll be my last MJ book until Scarlett Fever comes out in 2010. I've heard good things about this book, and I'm looking forward to reading some more MJ.
and
The Blood Confession
by Alisa M. Libby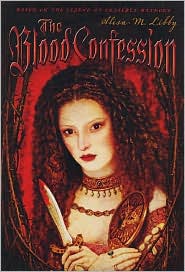 Goodreads Description:
Erzebet is young, beautiful, rich, and imprisoned in her castle, waiting to be sentenced for murder. In a brilliant fiction debut, Alisa M. Libby resurrects the real-life Erzebet Bathory, a seventeenth-century countess who believed that bathing in human blood would preserve her looks forever. The jailed countess tells her story from her birth, which was overshadowed by a bad omen, to her mother's mental deterioration, Erzebet's own love for a mysterious figure, and the crimes she committed in pursuit of eternal life.
This gripping novel combines gothic horror and romance as it explores the connection between beauty and power.
I've wanted to read this novel since I first saw it in Chapters last year, and after reading The King's Rose, I'm even more eager to read it!
And now the Teaser portion of this meme...
TEASER TUESDAYS are a weekly bookish meme hosted by MIZB of Should Be Reading. Anyone can play along! Just do the following:
Grab your current read
Open to a random page
Share two (2) "teaser" sentences from somewhere on that page
BE CAREFUL

NOT

TO INCLUDE SPOILERS! (make sure that what you share doesn't give too much away! You don't want to ruin the book for others!)
Share the title & author, too, so that other TT participants can add the book to their TBR Lists if they like your teasers!
Here is mine:
"At these words, a chill that had nothing to do with the surrounding mist stole over Harry. He was reminded of words he had heard a few weeks ago, words that had a horrible and particular meaning to him."
Harry Potter and the Half Blood Prince
by JK Rowling
Well, that is all I have for today!
EMMA OUT.