Hello!
Yes, I am NOT going to fall behind on my blog! I continue to do the memes! TBR Tuesday was created by my lovely friend
Korianne
. I have two books to read, since they've been renewed the limit at my library. I'm reading Betwixt right now, so I have to get on them! They are:
Skinned
by Robin Wasserman
Goodreads Description:
Lia Kahn was perfect: rich, beautiful, popular -- until the accident that nearly killed her. Now she has been downloaded into a new body that only looks human. Lia will never feel pain again, she will never age, and she can't ever truly die. But she is also rejected by her friends, betrayed by her boyfriend, and alienated from her old life.
Forced to the fringes of society, Lia joins others like her. But they are looked at as freaks. They are hated...and feared. They are everything but human, and according to most people, this is the ultimate crime -- for which they must pay the ultimate price.
I've wanted to read Robin Wasserman since my YA for Obama days and she was a part of the site. She has another book called Hacking Havard that I also want to read. It looks really good!
And
The Astonishing Life of Octavian Nothing
by MT Anderson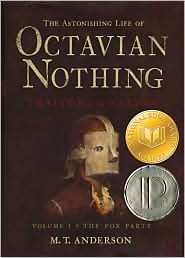 Goodreads Description:
It sounds like a fairy tale. He is a boy dressed in silks and white wigs and given the finest of classical educations. Raised by a group of rational philosophers known only by numbers, the boy and his mother — a princess in exile from a faraway land — are the only persons in their household assigned names. As the boy's regal mother, Cassiopeia, entertains the house scholars with her beauty and wit, young Octavian begins to question the purpose behind his guardians' fanatical studies. Only after he dares to open a forbidden door does he learn the hideous nature of their experiments — and his own chilling role in them. Set against the disquiet of Revolutionary Boston, M. T. Anderson's extraordinary novel takes place at a time when American Patriots rioted and battled to win liberty while African slaves were entreated to risk their lives for a freedom they would never claim. The first of two parts, this deeply provocative novel reimagines the past as an eerie place that has startling resonance for readers today.
I've been interested in this ever since John Green started talking about it in his youtube videos. It sounds intriguing. I've tried this once and just wasn't in the mood, so I'm going for it again.
And now is the Teaser part of this post!




Teaser Tuesdays is a book meme hosted by MizB of Should Be Reading. Anyone can play along! Just do the following:
Grab your current read

Open to a random page

Share two (2) "teaser" sentences from somewhere on that page

BE CAREFUL

NOT

TO INCLUDE SPOILERS! (make sure that what you share doesn't give too much away! You don't want to ruin the book for others!)
Share the title & author, too, so that other TT participants can add the book to their TBR Lists if they like your teasers!
How many times had Ralph Mason looked at her in just this way, trying to read what was behind her velvety eyes? He couldn't. Ondine was a normal young woman, a budding painter, a bratty sister (at times), a good daughter, a great friend to the people she chose to trust. And though he had been there at her birth - delivered her, in fact - there was something untouchable about the girl that even her own father could not get at. -
Betwixt by Tara Bray Smith
Emma out!