Hello! I feel like I haven't blogged in a while. A whole day! I feel pathetic. I must read more.
This meme is hosted by
MizB of Should Be Reading
. I've only had three finds this week, which is surprising. They are:
Once Dead, Twice Shy
by Kim Harrison
Goodreads Description:
"My name is Madison Avery, and I'm here to tell you that there's more out there than you can see, hear, or touch. Because I'm there. Seeing it. Touching it. Living it.

Madison's prom was killer -- literally. For some reason she's been targeted by a dark reaper -- yeah, that

kind of reaper -- intent on getting rid of her, body and soul. But before the reaper could finish the job, Madison was able to snag his strange, glowing amulet and get away.
Now she's stuck on Earth -- dead but not gone. Somehow the amulet gives her the illusion of a body, allowing her to toe the line between life and death. She still doesn't know why the dark reaper is after her, but she's not about to just sit around and let fate take its course.
With a little ingenuity, some light-bending, and the help of a light reaper (one of the good guys! Maybe . . . ), her cute crush, and oh yeah, her guardian angel, Madison's ready to take control of her own destiny once and for all, before
it
takes control of
her
.
Well, if she believed in that stuff."
Sounds good, huh? My friend Kristen was telling me about the author. I looked it up on Goodreads and decided I should read it! I'll have to put this one on hold at the library...

Pieces of Me by Charlotte Gingras


Goodreads Description:
"Mirabelle's art teacher tells her she has talent, but what good is it doing her? Almost fifteen and friendless, Mira is plagued by dark thoughts. Her body seems to be changing daily. Her mother is domineering and half-crazy and her father -- well, he's her ex-father, mostly out of Mira's life and awkward when he's around. Then she meets free-spirited, confident Catherine, a knockout who makes the boys' jaws drop. Not only is Catherine good at art like Mira, she also knows about kissing boys. Mira has never kissed anyone and doesn't understand the hungry way boys are beginning to look at her. Now that Mira's finally found someone she can talk to, her dark thoughts are vanishing. But as her friend encourages her to come out of her shell, Mira finds that her new-found confidence can still be shattered in an instant. Only after Mira faces a betrayal and a tragedy can she begin to put the fragmented pieces of herself together.
"
Sounds good right? It has gotten some big Canadian awards, so I'm looking forward to reading this. Also, it's THIN which is good when you're reading a book a day. Yes, size matters. With books.
The Waters and the Wild
by Francesca Lisa Block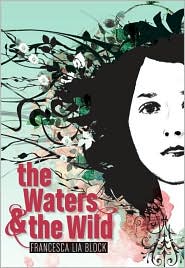 Goodreads Description:
"When Bee woke up, there was a girl standing in her room. "You are me," the girl said. Then she was gone. I am a thirteen-year-old double Gemini. I get bad grades, write poetry with my left hand, dance in my room, surf the net. I Google images of the tattoos my mom won't let me get. . . . But my world belongs to someone else. Someone who lives below the concrete of Los Angeles, someone with wild eyes and twigs in her hair. And I think she wants her life back."
This book intrigues me. The cover instills love within my heart and again, it's THIN. I'm looking forward to reading this.
EMMA OUT!